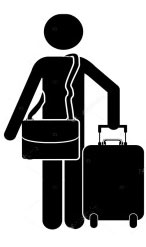 Passenger and carry-on luggage screening is provided by SOGAER Screening personnel, whose task is to ensure compliance with the security rules for safeguarding civil aviation (in accordance with the European regulation and the
National Security Plan
).
The main stages of security screening carried out at Cagliari-Elmas airport are outlined below
1 BOARDING PASS CHECK-IN
In order to facilitate passengers' progression and to quicken the process of getting them to security checkpoints, since 2014 four automatic access control ticket barriers have been introduced in the boarding area, which is still overseen by Security staff members.

 WHAT THE PASSENGER MUST DO
To be granted access, the passenger must lay the bar code side of the boarding pass on the scanner. Doors will then open to the security checkpoints.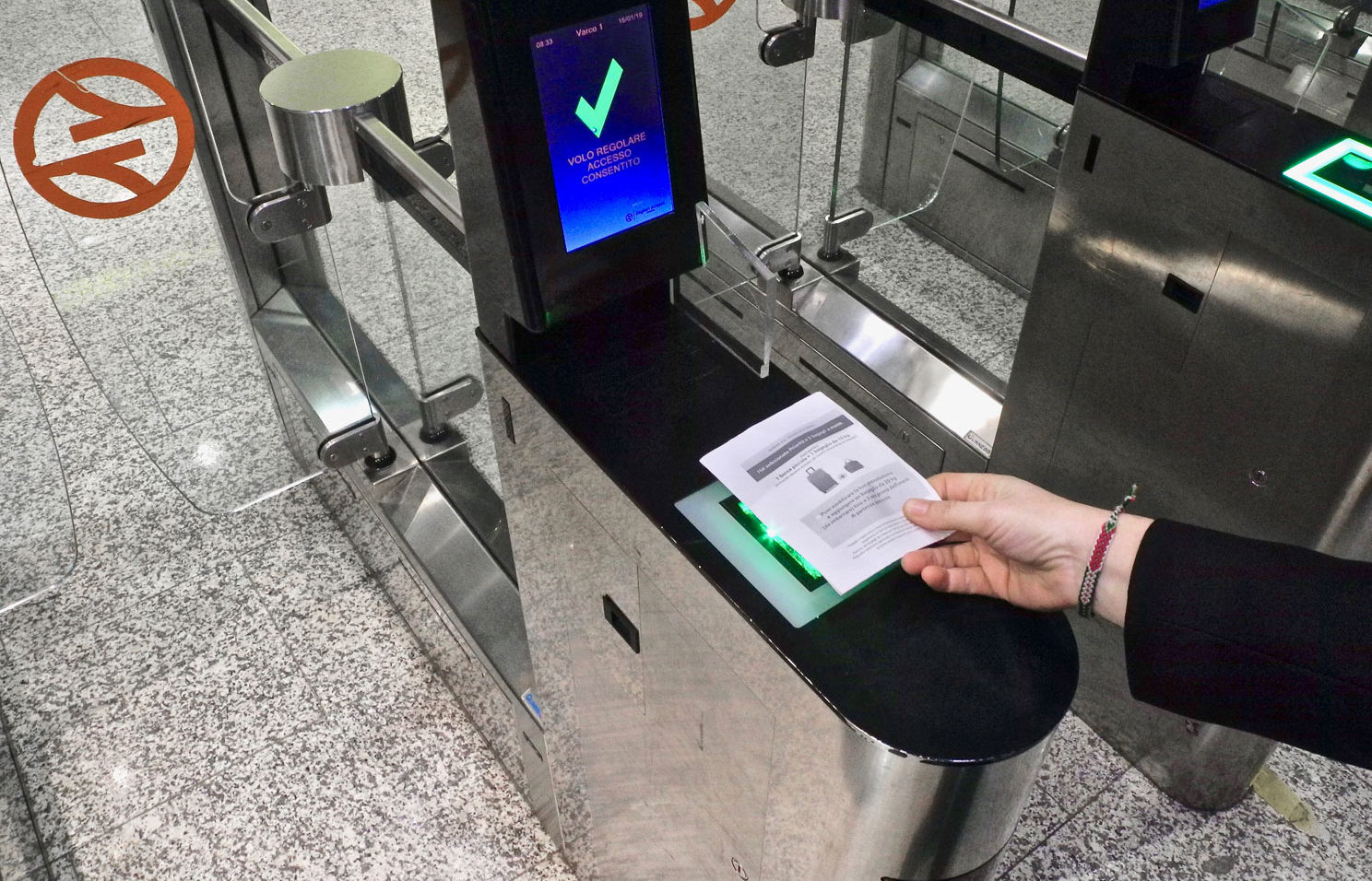 2. WALK-THROUGH METAL DETECTOR
Every passenger (except for Pacemaker wearers – see below) must undergo a Metal Detector screening (WTMD – walk-through metal detector). When the instrument detects the presence of metal, be it part of a belt, shoes, watches or coins, an acoustic signal is emitted, and further screening will follow. It must be pointed out that additional screening may occur even if no acoustic signal is heard.

 WHAT THE PASSENGER MUST DO
Before walking through Metal Detector, the passenger must remove: jacket, overcoat, scarf, foulard, hat, every metal item (belt, watch, coins, etc.) and put them in the specific screening bins, where they will be checked separately through the X-Ray.
3. HAND LUGGAGE SECURITY SCREENING
The carry-on luggage screening is provided by the Security personnel, who employs X-Ray checking machines to make sure that no forbidden items are being carried onboard. .

 WHAT THE PASSENGER MUST DO
– Take large devices such as laptops and other personal electronics out of the hand luggage and place them in the specific screening bins;
– Take liquids out of the hand luggage and place them in the specific bins to be examined by the Security employee.
Further information about the liquids rule can be found HERE.
The provisions on the weight and size of hand baggage vary depending on the airline: it is advisable to check the baggage size limits on the website of the reference airline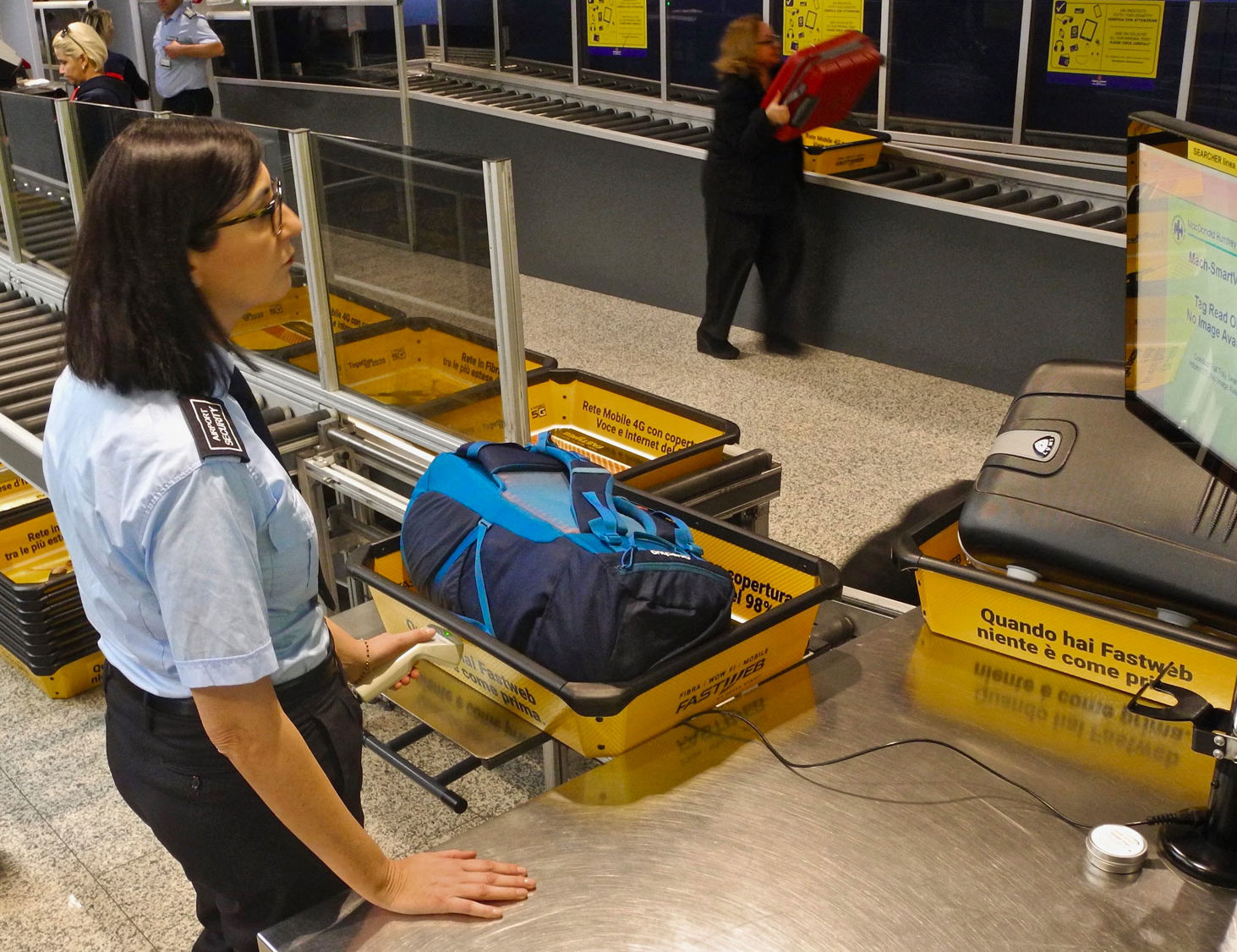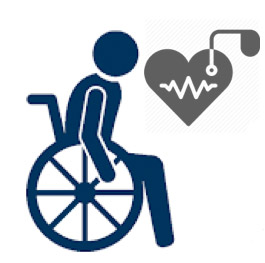 Cagliari-Elmas Airport offers free special assistance for passengers with reduced mobility (PRM). For further information please visit SOGAER 
SOGAER Security offers PRM a dedicated access to undergo the screening procedure (boarding pass, passenger, and luggage check).
PACEMAKER wearers may benefit from the same access provided to PRM according to prior agreement with Security personnel, who, after checking the medical record, will proceed with a screening without WTMD.