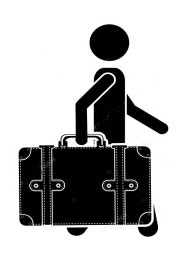 Checked bags to be stored in the aircraft hold will undergo meticulous security screening (set forth by European regulations and the National Security Plan) before being allowed on the aircraft.
CHECKED LUGGAGE ALLOWANCE
The checked luggage consists of every item handed over to the airline agent to be transported on the respective flight. Luggage will be weighed, labelled, and listed on the boarding pass. The passenger will be given a luggage identification tag.
For security reasons it is forbidden to carry objects on behalf of a third party or items with unknown content.
OVERSIZE LUGGAGE
Oversize luggage such as bicycles, surfing equipment, golf bags, etc. must be registered at the airport check-in desk and delivered to a designated area that will be specified by the airline employees.
The Security Personnel will be responsible for the screening of luggage to be stored in the aircraft hold, that will take place in a specific area equipped with sophisticated screening devices.
Attention: checked luggage may be subject to regulations about restricted items. Further information can be found HERE.